Search the Journey to Forever website – click HERE


Navigation
School gardens
Why school gardens?
School gardening projects fit easily into the curriculum and enhance studies in a wide range of subjects, but they also have a special value all their own. Some schools have always had gardens, but gardens for teaching have a more recent history.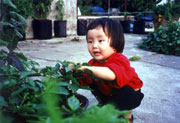 A small visitor to our garden -- he was fascinated with the pots of green pepper plants (Midori Hiraga)

Over the last 30 years many thousands of schools have incorporated gardening into the curriculum. With the growing experience of school gardening has come a great deal of evidence of the multiple benefits to be gained.

Perhaps the main benefit is that schools with gardens are healthier schools producing healthier young people with healthier attitudes to life. The schools gardening movement is now spreading fast in all parts of the world.

"The wonderful thing about garden-based learning is that it's a hands-on, minds-on experience where my students and I learn together" (US teacher)

Irish organic gardener and food campaigner Kathryn Marsh writes: "It may not have happened yet in the US but in many (indeed most) European countries organic food production is part of normal school life. Within the next five years I'm prepared to bet that every school here will be producing food, albeit on a small scale, using organic methods. Which means that the gap in generations will have been bridged. Unlike their parents, and even their older siblings, those children will know where food comes from and how it is grown and will have basic skills to build on. I'm betting the US won't be far behind. Twenty years ago the national media were interviewing me as an interesting madwoman, these days they are almost deferential."
-- Message to the Organic Gardening Discussion List, 19 August 2008
The Journey to Forever garden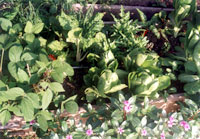 Journey to Forever garden (Keith Addison)

Our organic garden at the Beach House on Lantau Island in Hong Kong is a mix of the Square Foot Gardening and Container Gardening techniques, a simple and flexible organic food growing system for city-dwellers -- or for anyone.

This growing system is ideal for schools gardens and as a resource for school biology, ecology and environment projects.

In the US the Square Foot Foundation is working to get a garden in every school, with Internet resource links promoting inter-school collaboration and providing expert support.

Our system can even be adapted to conditions in Hong Kong schools which don't have school grounds.

The garden demonstrates that you can build a beautiful organic food garden on top of cement without any soil -- you can make your own high-quality soil by composting food scraps and other wastes. This waste recycling system is clean, hygienic and nuisance-free, and proven to be safe for children and in the home.

The organic waste-recycling system can be extended to homes and other institutions, and has the potential to make an impact on city waste-disposal and pollution problems.

There are many associated sub-projects. Together they offer a wide range of choices for schools.

Subject-areas:
How to start: indoors or outdoors
Waste-recycling -- turn kitchen scraps into new soil (kids just love this!) -- see School composting
Recycling and improvising to minimize costs and waste
What it takes to grow a meal
Organic growing and health
Basic ecology ("everything is connected to everything else")
Sustainable agriculture
Protecting genetic diversity, food security
Networking and collaboration with other school gardeners along our route and in other lands
Collaboration with city farms and community waste-recycling initiatives in other lands
Caution!
Some schools gardening resources on the World Wide Web prescribe the use of harsh chemical fertilizers and toxic pesticides in classroom projects. We have a few words to say about this.

First, such projects teach children only half of nature's lesson, and it's an unbalanced half. The complete lesson from which children can benefit the most includes the full round of growth and decay, how the one depends on the other, and how, together, they compose a vivid example of the health, balance and sustainability of a natural system at work.

Second, today's children are aware of environmental issues -- they want a better and cleaner world, and they want to play a role in creating it. Teaching them the ways of the industrial style of agriculture which now stands guilty of so much of the pollution and environmental destruction children abhor is not what they deserve.

Make your school garden an ORGANIC garden!


See School gardening resources
School composting
Trees and forests -- resources for schools

See also:
Organic gardening
Composting
City farms
Small farms
Trees, soil and water
Seeds of the world